Alessandra Ferrighi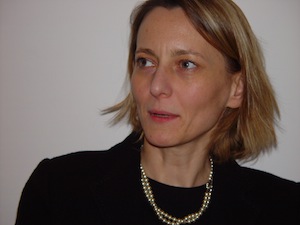 Alessandra Ferrighi graduated in Architectural Restoration from the Istituto Universitario di Architettura di Venezia (IUAV) in 1997, with a score of 110/110, with honors. In 1999 she was granted a Master degree in Protection and conservation of cultural heritage by Scuola Superiore Normale in Pisa. In the same year, she was temporary lecturer in Architectural restoration at IUAV.

In 2005 Mrs Ferrighi received her Ph.D. in Building and environmental restoration from the University of Genoa, with a dissertation on Spolia.

In 2006 she won a competitive examination for a three-year research fellowship with the Department of History of Architecture - IUAV, on the image of the city of Venice.

Since 1998 she has been a researcher at IUAV in the field of architectural restoration, and co-operating in and coordinating projects financed by Italy's National Research Council (CNR), by the Consorzio Venezia Nuova (Ministry of Public Works), by the Consorzio per la gestione del centro di coordinamento delle attività di Ricerca inerenti il sistema Lagunare di Venezia (CORILA –Consortium for Co-ordination of Research Activities Concerning the Venice Lagoon System) and by the Veneto Region. In particular, from 2000 to 2006 Mrs Ferrighi coordinated the Corila research on external claddings in Venice's historical centre, which culminated in the internet publication (www.archidata.corila.it) of data concerning all Venetian buildings. Since July 2010 she is involved in research Visualizing Venice, an international and collaborative research.
Since 1998 Mrs Ferrighi has been temporary lecturer at IUAV in the field of restoration.

Mrs Ferrighi is also an architect, employed by the National Astrophysics Institute (INAF) to work on Padua's Specola Museum and the positioning of instruments. Together with some professional firms, she carried out analyses of the degradation and planning of the restoration of especially valuable artifacts, such as Padua's mediaeval defensive wall, the Church of S. M. della Salute in Venice, the Castle of Rovigo, Contarini della Scala del Bovolo palace in Venice. The Superintendence for Architectural and Environmental Heritage of Eastern Veneto appointed her to work on Padua's Castle in 2008.

She is the author of several articles, collected in wider publications, on the history of Padua's Castle and Specola (observatory), on cataloguing, databases and the use of web-gis for the external cladding of the Venetian buildings.
www.iuav.it/Ricerca1/ATTIVITA-/aree-temat/architettu/chi-siamo/curricula/ferrighi/index.htm
Alessandra Ferrighi appeared in