The full schedule of events is listed here in summary format. Click on any event to see  details about the session. The printable version (no tables) shows the full event info all on one page.
Twitter: 
@chatfestival2012 
#chat2012 – please tweet individual sessions as #chat2012 #t1 (for example)
Jason Allaire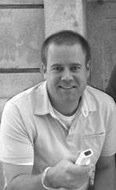 Jason Allaire is an Associate Professor in the Department of Psychology at NCSU. His primary area of research is in the field of cognitive aging with particular interests in everyday cognition, mild cognitive impairment, intraindividual variability, health disparities, and cognitive interventions. Additional information about his non-video game research can be found at the Cognition in Context Lab page.

Jason began playing video games as a young child. However, he didn't start playing seriously until he was trying to finish his dissertation when he began playing EverQuest. After a number of year playing EQ, he moved onto World of Warcraft and has played WoW off and on since release.
Jason Allaire appeared in