The full schedule of events is listed here in summary format. Click on any event to see  details about the session. The printable version (no tables) shows the full event info all on one page.
Twitter: 
@chatfestival2012 
#chat2012 – please tweet individual sessions as #chat2012 #t1 (for example)
Liz Milewicz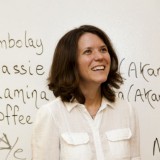 Digital Scholarship & Production Services department head, Duke University Libraries. Former manager of NEH projects to create Voyages: The Trans-Atlantic Slave Trade Database (slavevoyages.org) and African-Origins (african-origins.org). Graduated 2009 Emory University, with doctoral dissertation on the changing culture and soundscape of academic libraries. Wishes she could add memory to her brain.