The full schedule of events is listed here in summary format. Click on any event to see  details about the session. The printable version (no tables) shows the full event info all on one page.
Twitter: 
@chatfestival2012 
#chat2012 – please tweet individual sessions as #chat2012 #t1 (for example)
Lisa Klarr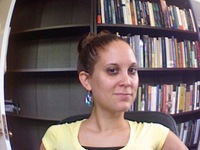 Lisa Klarr received her BA in English and French from the University of Michigan-Dearborn in 2003 and her MA in English from Georgetown in 2005. She is currently a Ph.D. Candidate in the Program in Literature at Duke University, completing her dissertation "Useless: The Aesthetics of Obsolescence in Twentieth Century US Culture" under the co-direction of Fredric Jameson and Robyn Wiegman. Her areas of expertise include Nineteenth and Twentieth Century American Literature, modernity and post-modernity, industrial and post-industrial culture, spatial theory, critical theory, critical ecology, and material culture studies. Klarr is also the Co-Editor of Polygraph Issue 22: Ecology and Ideology (Fall 2010) and a former HASTAC Scholar. She will defend her dissertation in Fall 2012.